As the 8th March is otherwise known as 'International Woman's Day' we thought we would take a moment to celebrate some amazing women with sight loss who have achieved such inspiring things.
Helen  Keller (1880–1968)
Helen Keller was an American author, disability rights advocate, activist and lecturer and was the first deaf and blind person to ever graduate from college.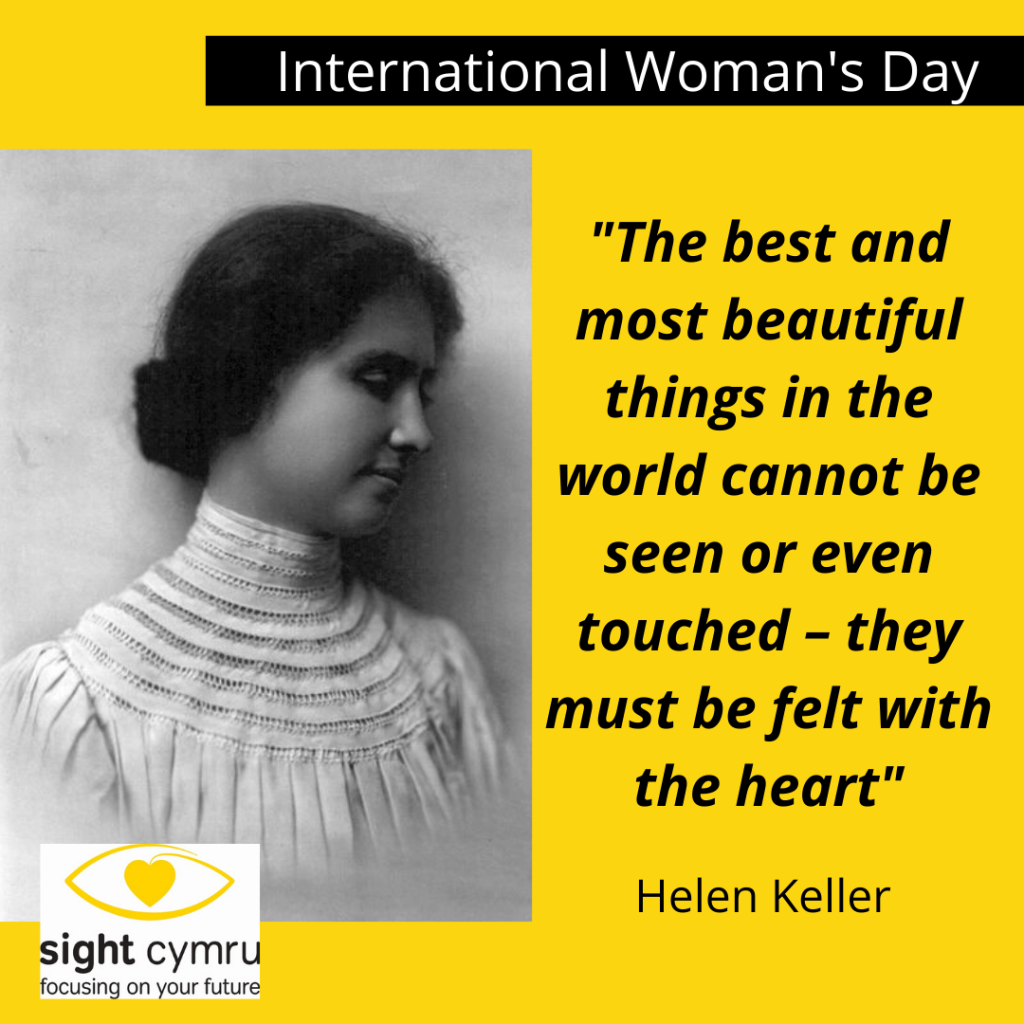 At the age of 19 months Helen developed an illness that left her deaf, blind and mute, however she did not let that stop her from being heard, by the age of 7 she had developed around 60 hand gestures so that she could communicate with her parents, with the support of her teacher Anne Sullivan, she then went on to learn the manual alphabet and finger spelling. In later life she even learned how to speak.
"It is not blindness or deafness that bring me my darkest hours"
Helen was a very ambitious, determined and intelligent woman that has such a compassion and drive to help others overcome obstacles to living fulfilled lives.
"The welfare of each is bound up in the welfare of all."
Here are just some of Helen's many achievements:

1903: Helen published her first book 'The Story of My Life'
1904: Helen became the first deafblind person to achieve a Bachelor of Arts degree
1915: Helen co-founds the American Foundation for Overseas Blind to support World War I veterans blinded in combat. An organisation that later became Helen Keller International and expanded their support to address the causes and consequences of blindness, malnutrition and poor health.
1920: Helen helps found the American Civil Liberties Union (ACLU)
1924: Helen joins the American Foundation for the Blind as spokesperson and ambassador
1946: Helen begins touring internationally on behalf of the American Foundation for Overseas Blind, in 11 years; she will visit 35 countries on five continents
1956: Helen wins an Academy Award for a documentary film about her life
1964: Helen is awarded the Presidential Medal of Freedom by President Lyndon Johnson
Here is a video on Helen Keller learned to speak:
Judi Dench (1934- present)
A name that many of us will recognise, since making her professional acting debut in theatres at  1957 Judi went on to establish herself as one of the most significate British theatre performers before going onto a successful career in TV and film after winning the BAFTA award for Most Promising Newcomer to Leading Film Roles in 1966.
Judi has landed some amazing roles, including playing 'M' in seven Bond films and has received a staggering amount of award nominations throughout her career (as you can see for yourself here) In 1970 she was dubbed Officer of the Order of the British Empire (OBE) and become Dame Commander of the Order of the British Empire (DBE) in 1988 for her contributions to charity.
In 2012 Dame Judi was  diagnosed with macular degeneration  which has caused her significant sight loss and despite the fact she is now unable to drive or travel alone she has since gone on to travel to amazing places, such as India for leading roles.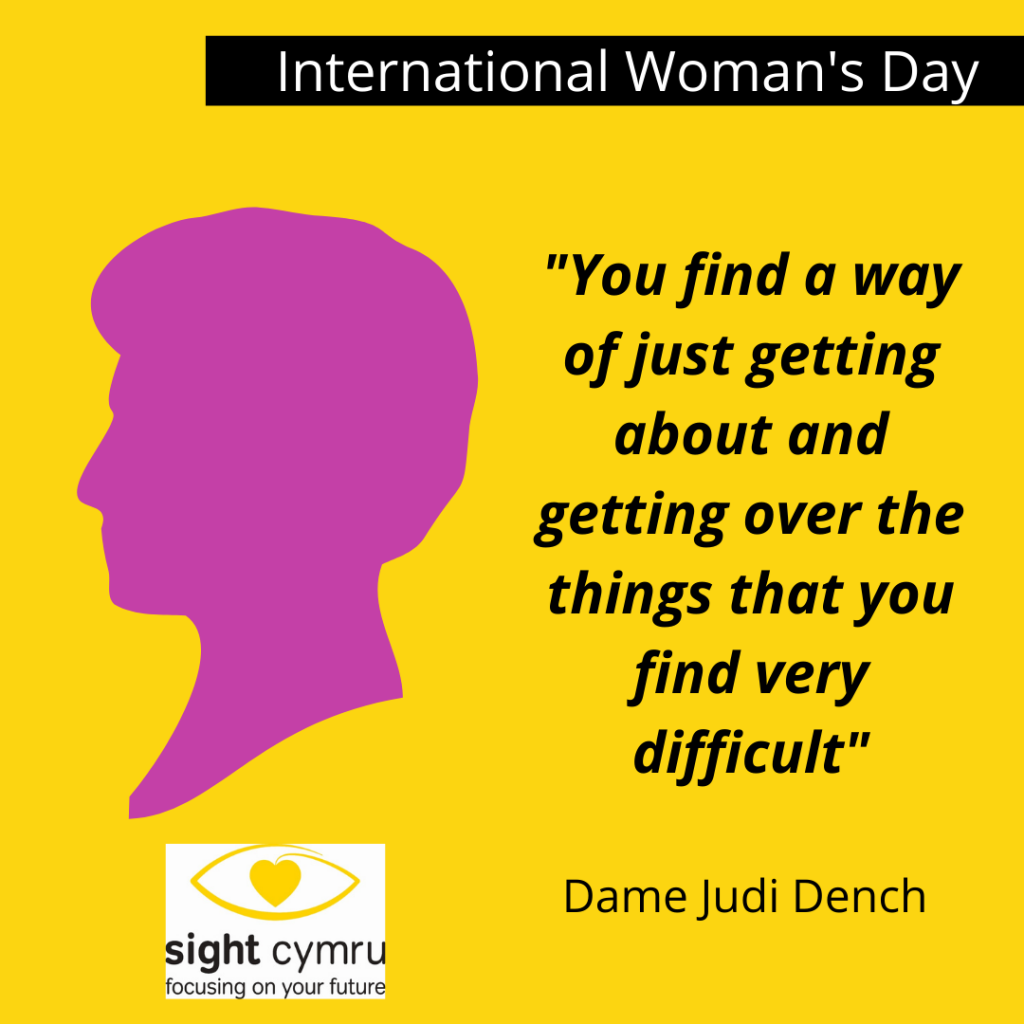 In many interviews in which she discusses  her condition Judi talks about how she has had to adapt, from taking a friend with her to the cinema to (quietly) tell her what's happening in the film between dialog, memorizing scripts and having them in large fonts, to her co-stars kindly telling her where items are placed in scenes.
Judi seems to have no plans to let her sight loss get in the way of her successful acting career, in fact since her diagnosis she has gone on to star in films such as:
Miss Peregrine's Home for Peculiar Children
Victoria & Abdul
Murder on the Orient Express
Nothing Like a Dame
Tulip Fever
Artemis Fowl
Cats
She has also gone on to be nominated and win a number of awards, just a small snapshot of these include:
2013 Saturn Award Nominee Best Supporting Actress
2014 Academy Awards Nominee for Best Performance by an Actress in a Leading
2014 BAFTA Film Award Best Leading Actress
2014 Britannia Award Winner of Worldwide Contribution to Entertainment
2018 Golden Globe Nominee for Best Performance by an Actress in a Motion Picture – Musical or Comedy
2019 Movies for Grownups Award Winner of Best Supporting Actress
And in 2020 Judi become the oldest person to feature on the cover of Vogue aged 85. If you would like to read more about Judi's sight loss story, check out this article from the Guardian
Trischa Zorn (1964-present)
Trischa was born with aniridia, a congenital, genetic eye condition that affects the iris of the eye; Trischa had developed no iris in either eye and was therefore registered blind from birth.
Never-the-less her sight loss didn't stop her pursuing her love of swimming and at the age of 10 she joined as swimming club where she swam with sighted swimmers in Southern California.  In 1980 at the age of 16 Trishca made her Paralympic debut in the Netherlands where she won 7 gold medals and set 3 World Records. She then went on to compete in the 1984, 1988, 1992, 1996, 2000 and 2004 games and won another 46 medals, making her the most decorated Paralympian of all time, she broke another 5 world records and was inducted into the Paralympic Hall of Fame.
"My motivation lies in the fact that I truly love what I'm doing." (sportsillustrated.cnn.com, 25 Oct 2000)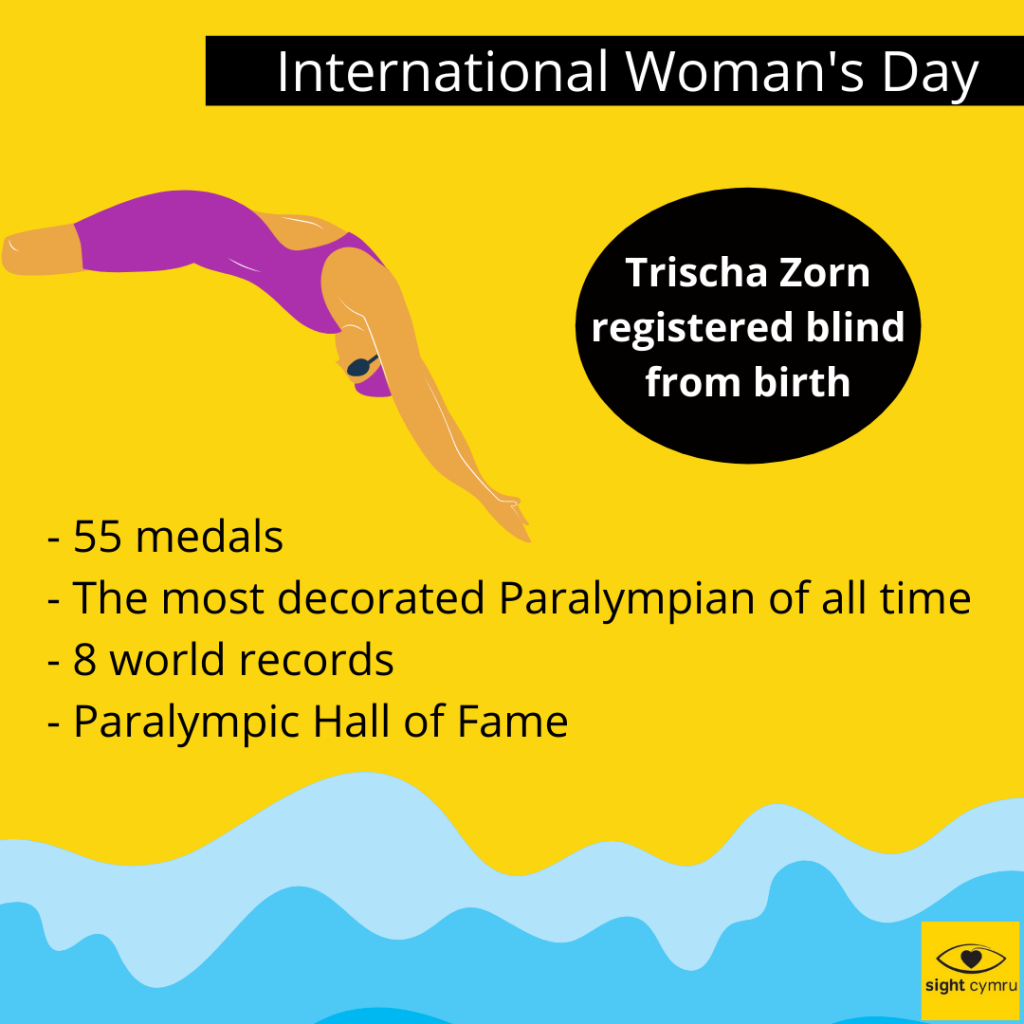 In 2004 Trischa was the first person to receive artificial irises in both eyes, although her vision improved from 20/1100 to 20/850, the main purpose of the surgery  was  to reduce the amount of light entering her eyes to reduce glare and give her eyes a natural appearance.
During her sporting career Trischa also graduated with a B.S. in Education/Special Education and a Master's Degree in School Administration.  Trischa then went on to teach Science and Social Studies for 10 years at the Indianapolis Public Schools and then achieved a law degree and is now an attorney for Insurance Company in Indianapolis.
She has continued to be involved with competitive swimming as a coach, she is the Paralympic Summer Athlete Representative and is part of the Leadership team for the US Olympic Committee Athlete Advisory Council, as well as a member of the Board of Directors for the United States Association for Blind Athletes and the Board of Directors for the Cornea Research Foundation of America.
You can read more about Trischa here