The support our volunteers provide plays such a vital role within the operations of our charity. Being a small charity that covers such vast ground within the sight-loss community of Wales, our volunteers enable us to offer sustainable and consistent support to our service users.
To show our thanks to our wonderful volunteers, we would like to introduce you to some of the team…
Meet Molly
Molly is a student at Crosskeys College and one of Sight Cymru newest volunteers. In the short time that Molly has been with us, she has already proven her self to be a valuable member of the team, she is an absolute star. As well as having many attributes and skills , that our charity has already greatly benefited from, she is truly lovely person, which makes her such a terrific volunteer.
We asked Molly to share with us why she chose to volunteer at Sight Cymru :
"Healthcare professionals take part in some of the most admirable work possible and even though they go to great depths to care for us, some may be limited by not actually knowing how it feels to be diagnosed with something as life-changing as visual impairment. Wanting to pursue a career in eye care, I believe that alongside gaining great experience, skills and meeting new people, volunteering with Sight Cymru will help me to help others in the future, and allow me to understand how those with visual difficulties adapt to daily life.
By choosing to volunteer with Sight Cymru I have been able to achieve a great sense of fulfilment in such little time. I have had the privilege to learn about the variety of support systems and care the charity provides, that sometimes doctors are unable to give. Sight Cymru have shown me that they are there to support you every step of the way and are prepared to do whatever it takes to help. I can only hope that as circumstances improve with the current Covid-19 situation, I will be able to carryon learning and help out more by continuing to volunteer for this great organisation.
Meet Ian
Ian has been volunteering with us for two years. Being visually impaired himself, it mean he is able to empathize and offer his own personal experiences to support our service users, as he knows fist-hand the life-difficulties visual impairment can bring. Ian is an invaluable member of the Sight Cymru volunteer team, we really would feel rather lost without him.
When asked about his volunteering at Sight Cymru, Ian said "I really enjoy my role as a Sight Cymru volunteer, being part of a fantastic team and being able to be part of some amazing experiences. Helping those with sight loss has given me a great sense of fulfilment and allowed me to learn new skills along the way".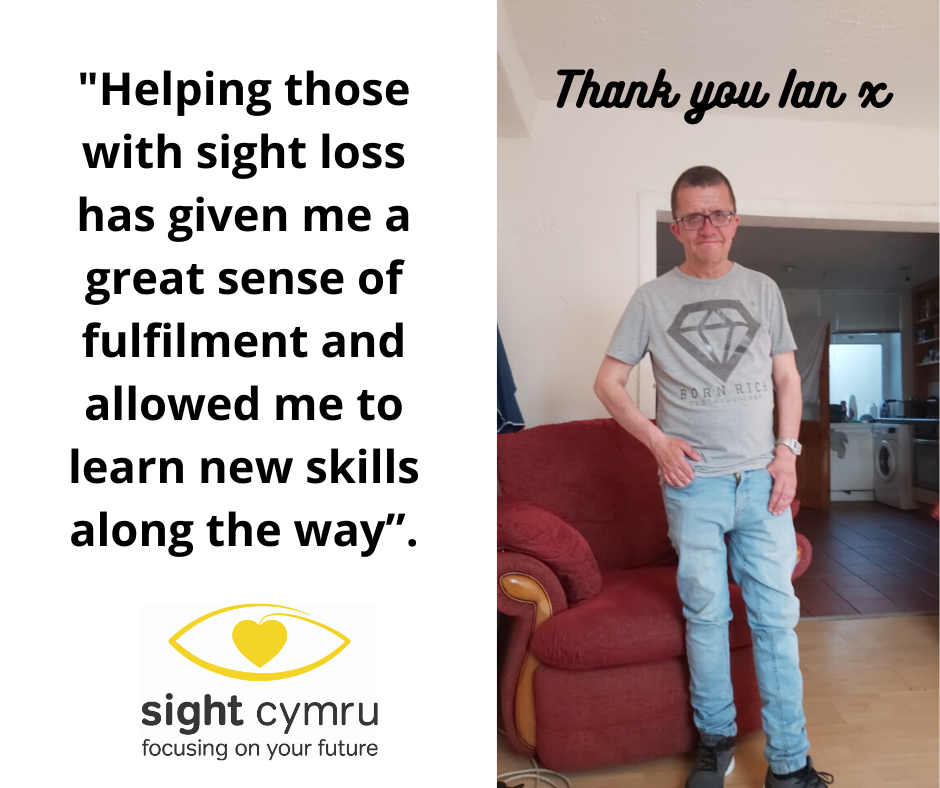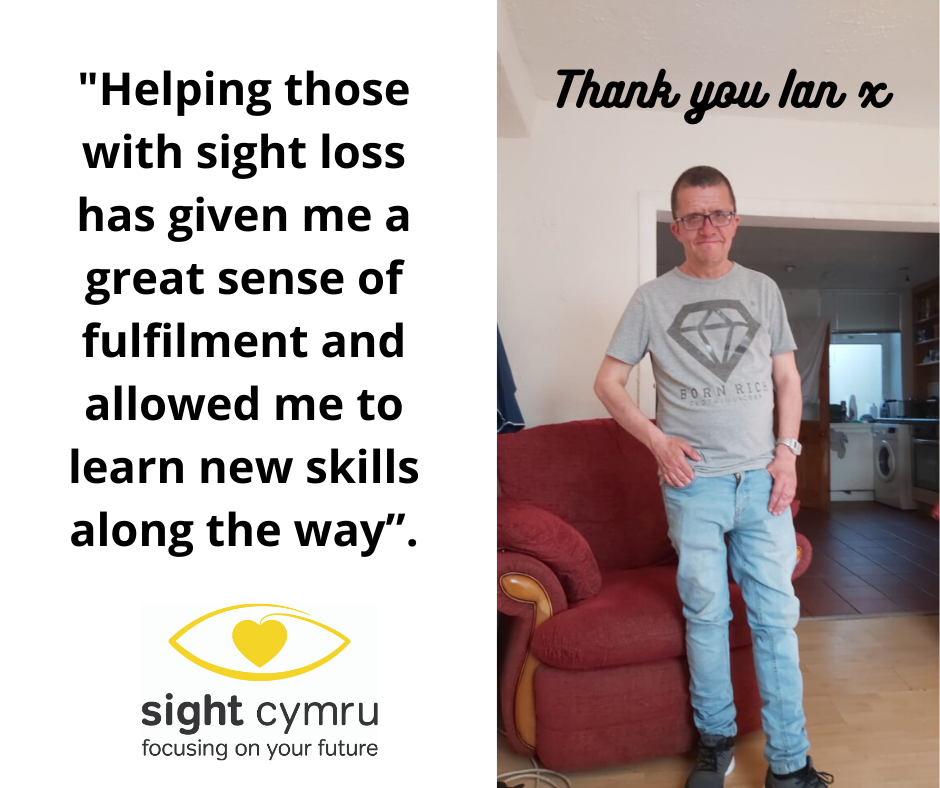 Meet Emily
Emily is a very enthusiastic, driven student, who really enjoys learning and getting involved at any level . We truly are very lucky to have her on board.
Here is what Emily has to say about her Sight Cymru volunteering journey so far:  https://www.youtube.com/watch?v=T-dtpSN1PM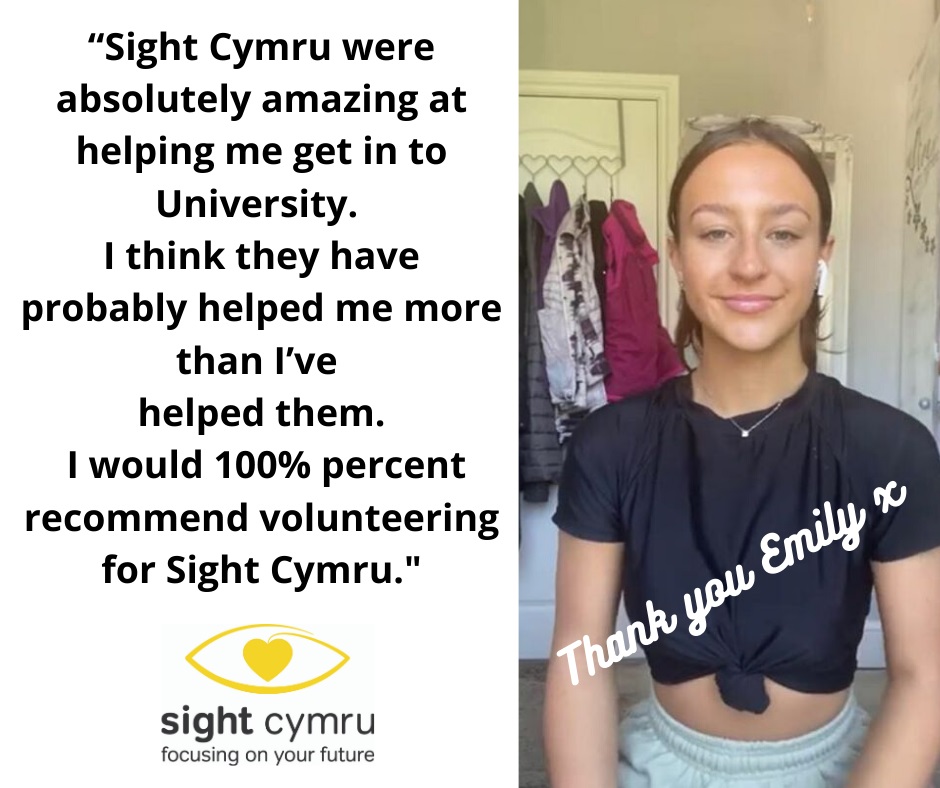 Meet Laura
Laura is a volunteer that supports our Sight Cymru ring-around service. She has such a wonderful telephone manor and has built such great relationships with our service users and they look forward to receiving her call each week. Having experienced sight loss herself, Laura has such patience and understanding with each of her callers, she is regarded very highly with them, as well as all of us here at Sight Cymru.
Here is what Laura had to say: https://www.youtube.com/watch?v=QRzJeztKj8o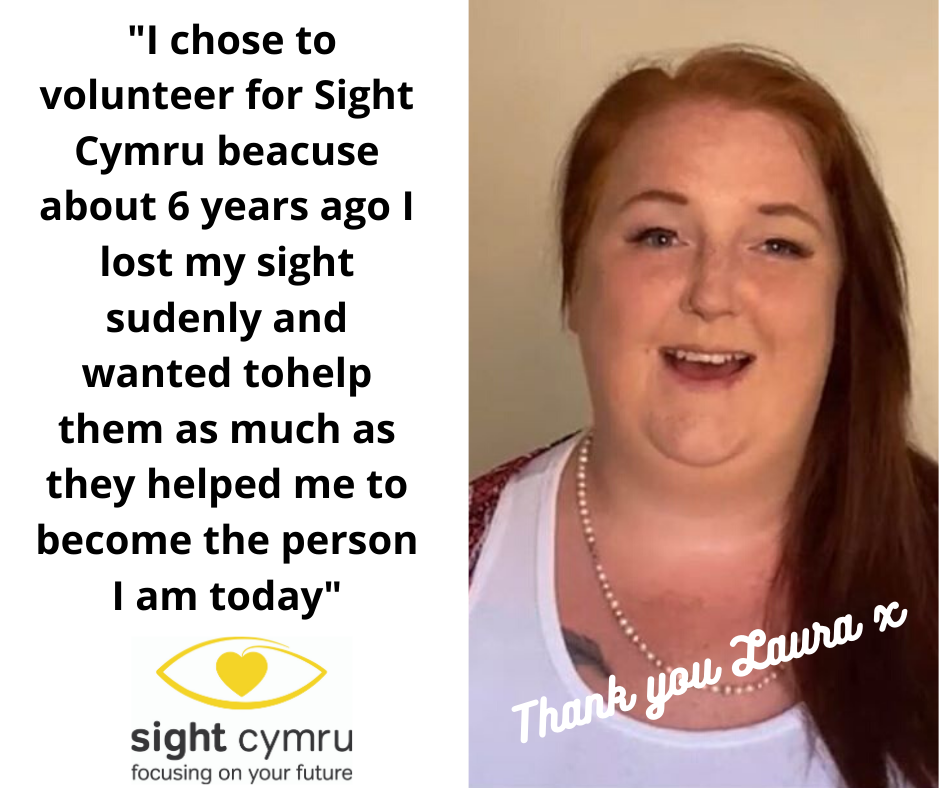 Meet Lesley
If we were to describe Lesley in just a few words, it would be intellectual and funny. Currently a volunteer at our Cowbridge club in the Vale of Glamorgan, our members really enjoy her sense of humour, knowledge and most of all, her compassion, which she shows to every single one of them. We have been very lucky in finding Lesley as she contributes to such a big part of our group.
Here is Lesley's volunteering story: https://www.youtube.com/watch?v=5g-w1bYF-cc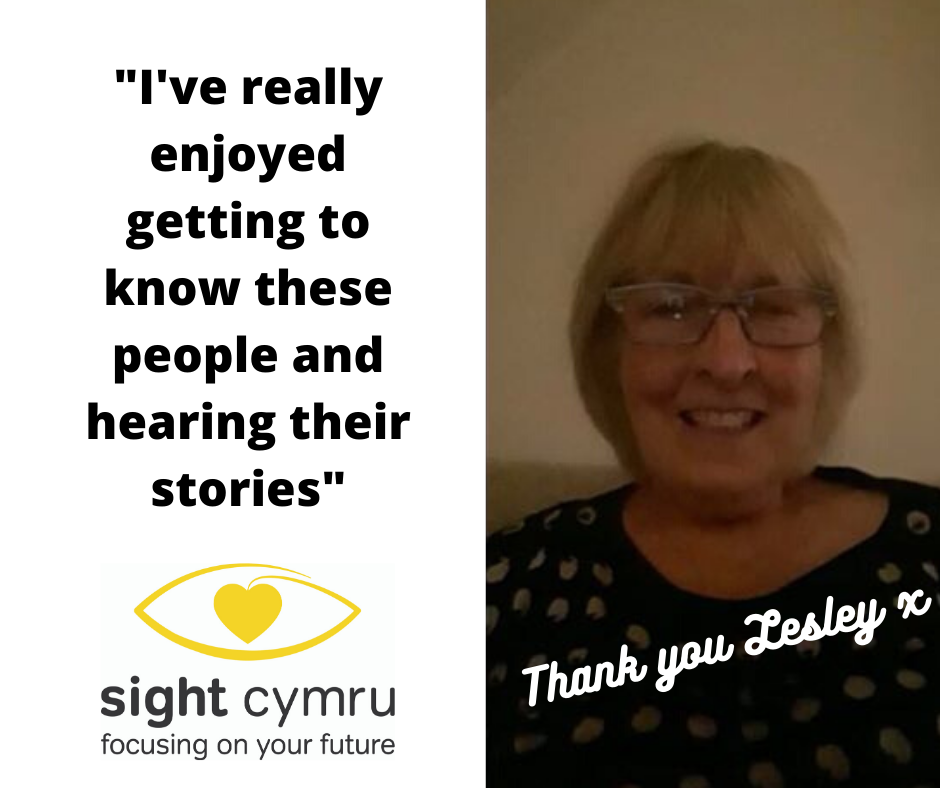 Meet Maria

Maria's role within the charity is as a news reader for our Talking News service. As she understands the importance of this service to those with sight loss, she ensures that she has interesting and informative stories to read each and every week. We thank you so much for your commitment to the charity and your role Maria.
Maria said…
"I am very grateful to volunteer with Sight Cymru as a reader on Talking News. I have met some lovely people during my time with Sight Cymru. Becoming recently disabled myself (I am completely deaf but wear a Cochlear Implant), I want to give back and support other disabled people within the community".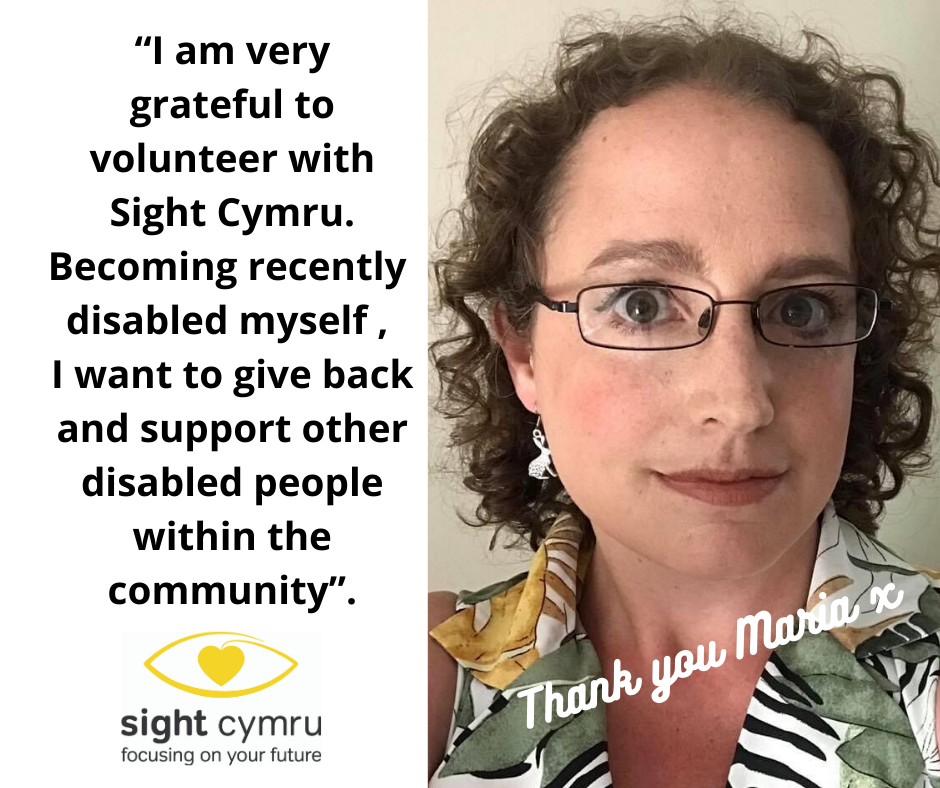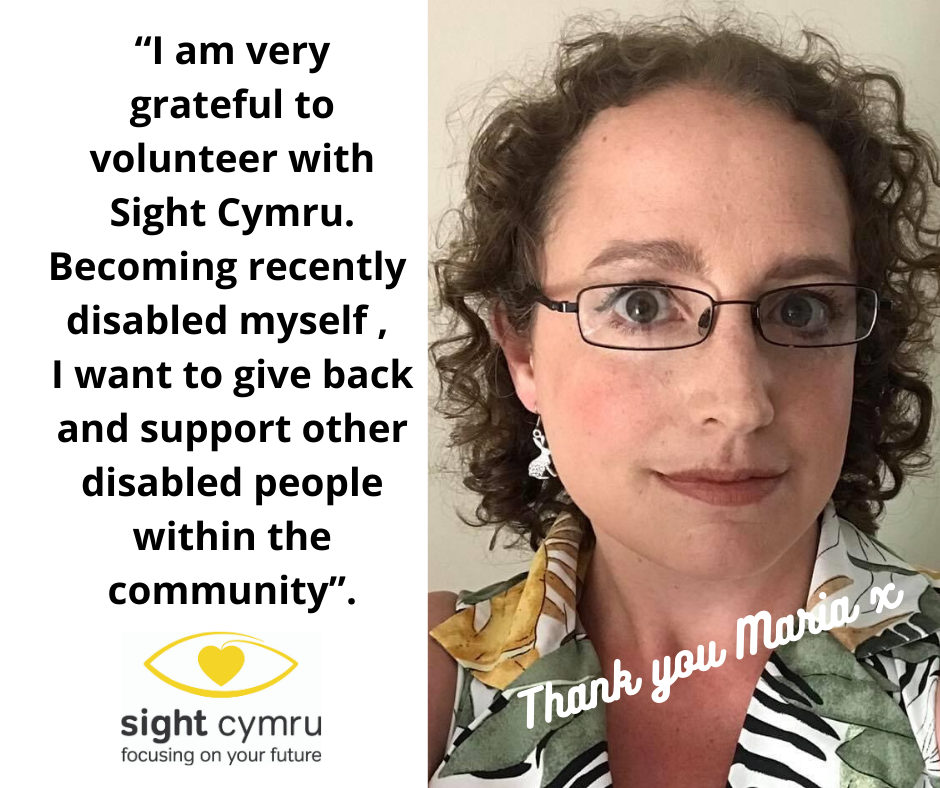 Meet Rhoda
Rhoda has been volunteering with Sight Cymru for quite some years now. Not only a trustee of the charity, but also a valued team member of the ring-around service. She provides our service users invaluable support each week, through her wisdom, compassion and kind heart. As well as being a fantastic trustee and telephone befriender, Rhoda is also a wonderful cake maker too.Thank you for your continued and fantastic support Rhoda.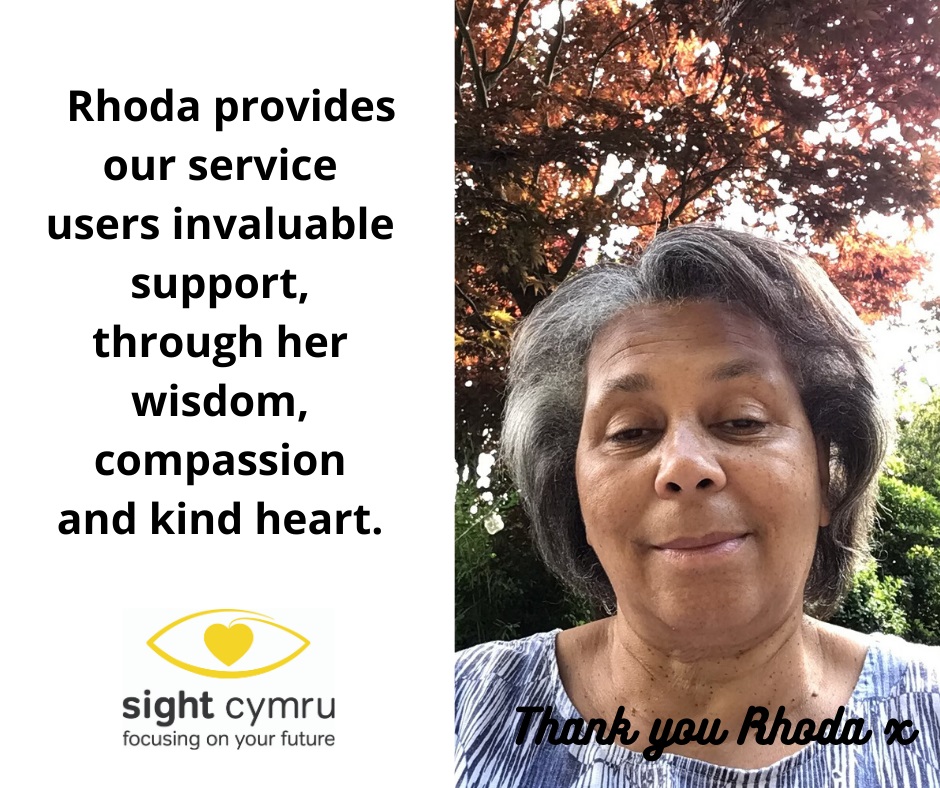 Our Volunteer Coordinator, Becs Harris is the lady responsible for all things volunteering at Sight Cymru and here is just a few words of thanks from her on behalf of us all:
If you would be interested in volunteering at Sight Cymru here are some of our latest's vacancies:
We also will keep you updated with volunteering opportunities via our website and social media pages, for further information or any questions you may have, feel free to email Becs Becs.Harris@sightcymru.org,uk.