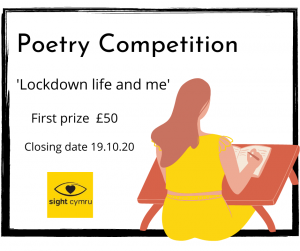 Competition time!
We would like to invite you to take part in our very first poetry competition, in which we would like to hear about your experiences and feelings during lockdown. 
It sure has been a roller coaster hasn't it?  Bringing changes, both good and bad, for many of us. And although we were all in it together, everyone has their own story to tell and so we are eager to hear about how you overcame things,  how you felt and what you personally experienced during these unusual times. 
The competition is open to all ages and there is no requirement on word count or poetry style, so feel free to be expressive and as creative as you like.
Entries can be made via email to corrie.barber@sightcymru.org.uk or  by post to Corrie Barber at Sight Cymru Bradbury House, Park Rd, Pontypool NP4 6JH . It can be in written, video or an audio format.  We would like to suggest a donation £1 for every entry. You can make a donation here.
The closing date of the competition is  19.10.2020 and the winner of the £50 first prize will be announced on 23.10.2020.
Good luck and we look forward to receiving your entries!